Tumble Tots
Experience endless movement opportunities!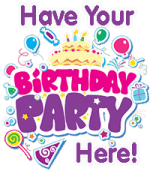 Palmer's Bendigo offers affordable parties for children and Adults of all ages and can tailor a party to fit your needs and abilities.
What is Tumble Tots?
Tumble Tots offers a fun and educational 'Movement Program' for crawlers up to 5 year olds in Bendigo, Moama and Cohuna.
Tumble Tot strives to enable all children to experience endless movement opportunities and be encouraged to think, play, create, construct and solve problems with their own bodies and in turn build their coordination and confidence.
Tumble Tots promotes the active participation of the child's mother, father or carer.
Play sessions run during school terms ONLY.
Bookings for Tumble Tot play sessions are essential.
Check our Facebook page for all CURRENT PLAY SESSION TIMES/ BOOKING LINK for Bendigo, Moama & Cohuna.