Birthday Parties at Palmers
Have your Birthday Party at Palmers Gym Bendigo!
Parties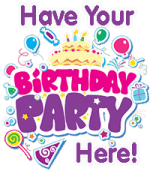 Birthday Parties
Bounce,

Jump

,

Flip

into your Birthday party at Palmers Gym.

Palmer's Bendigo offers affordable parties for children and Adults of all ages and can tailor a party to fit your needs and abilities.
We guarantee you full access to our incredible Gymnastic equipment for your child and their invited guests.
Cost: $22.00 per child/person using the gym equipment
You supply: Food, drinks & cake
Sessions available:
Saturdays: 10.00 am-11.30am & 12.30pm-2.00pm
Sundays: 10.00am-11.30am & 12.30pm-2.00pm
Parties also available through school holidays
Inclusions:
1 hour of play on our equipment including music, games (this is customized to appropriate age)
We supply 1/2 an hour in our upstairs party area for you to serve your food and cake after your play (pie warmer, fridge & microwave available)
Minimum of 10 children required for a party booking
Please note: All additional siblings, family or friends must be paid for in order to access equipment. This includes all adults wishing to use the equipment.
0-3 year olds must be supervised by a parent, guardian or carer at all times
Current covid restrictions will be discussed at time of making booking.
For Bookings or further information please email Carrie at palmersgymoffice@gmail.com